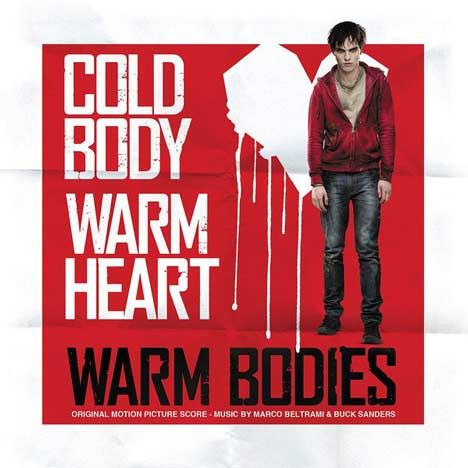 A funny new twist on a classic love story, WARM BODIES is a poignant tale about the power of human connection. After a zombie epidemic, R (a highly unusual zombie) encounters Julie (a human survivor), and rescues her from a zombie attack. Julie sees that R is different from the other zombies, and as the two form a special relationship in their struggle for survival, R becomes increasingly more human – setting off an exciting, romantic, and often comical chain of events that begins to transform the other zombies and maybe even the whole lifeless world.
Tracklist on next page
Track List:
1 Music for Airport Zombies
2 Into the Greenzone
3 Back to the Lair
4 Zombie March
5 Eating Vicariously
6 Why Me?
7 Run For It
8 For a Few Days More
9 Bad Brains / Zombie Wacker
10 Boney Chase
11 I Wanna Hold Your Hand
12 Marcus Sees the Light
13 Admission to Dream
14 Zombie Bros
15 Looking for Julie / Balcony Serenade
16 Walk Through Greenzone
17 Entering the Armory
18 Run from Dad / Zombies United
19 Run! Zombie Saves
20 Marcus' Trump Stumps
21 Might as Well Jump
22 R Shot Alive
.
http://www.rarefile.net/laog5c2bofpj/MBeltramiBSanders.WarmBodiesOST.rar
.
http://extabit.com/file/279ozu3h3x9se/MBeltramiBSanders.WarmBodiesOST.rar
.