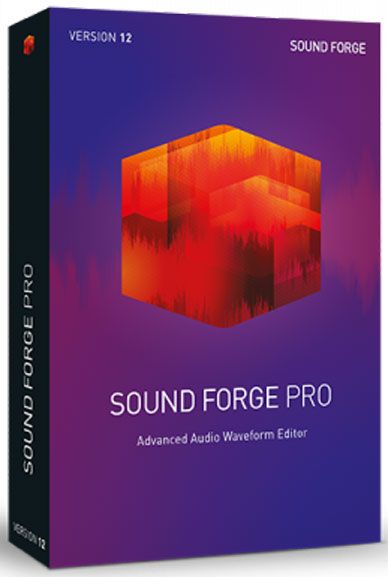 Packed full of new features, SOUND FORGE Audio Studio 12 offers the perfect working environment for finalizing your next project quickly and efficiently. New functions for editing, audio restoration and mastering set new standards in audio quality. SOUND FORGE Audio Studio lets you discover the ideal tool for recording, editing and adding dynamics to music and sound. Digitize, repair or restore rare LPs and tapes and create your own podcasts and karaoke tracks. SOUND FORGE Audio Studio is maximized for all kinds of audio projects. Recording music from almost any source is simple with SOUND FORGE, which also includes classic tools and plug-ins to enable you to finalize your tracks. To finish, burn your audio to CD or convert to all standard formats.
Whats new:
In Version 12.5, the core competencies of SOUND FORGE Audio Studio as an audio editor and recording program have been improved. In addition to the Real Time Monitoring, the recording dialog has been expanded with helpful functions such as lossless recording of the audio output, ideal for recording PC sound. In addition, you will also benefit from an optimized user interface with more contrast, new dialogs such as statistics and tempo dialogs, and many additional workflow improvements.
Developed with you in mind
Customer feedback has always been at the forefront of SOUND FORGE development. Many new features and functions are the result of our users feedback and wishes. The latest version is available as a 64-bit version as well as a 32-bit version and is available in many additional languages including Spanish, Portuguese and Japanese. Additionally, metadata dialog and information display in the status bar has also been re-designed to our users wishes.
64-bit architecture
64-bit architecture Now running with 64-bit architecture to bring you more editing power, more processing power, and a more powerful workflow. Version 12 is now in perfect alignment with your 64-bit OS.
New Editing Possibilities
The non-destructive editing enables a faster and more flexible editing experience.
Slice Editing
Enables you to continue to tweak your edit even after youve made your cut.
Soft Cut
Creates automatic, user-adjustable crossfades with each edit to guarantee smooth transitions between cuts with no pops or click
Spectral Cleaning
Visually identify frequencies of an offending noise, such as a chair squeak or cough, in your recording. Then use the spectral cleaning tools to select and remove the frequencies that make up the offending sounds. Spectral Cleaning intelligently recognizes missing program-material after the edit and automatically integrates material from the surrounding area to create a smooth and flawless edit.
New tools to repair and restore your audio
The new repair and restoration tools target specific audio problems and offer easy ways to make things right.
Accurate visualization of levels, phase and more
Redesigned meters give you accurate, real-time feedback on audio levels. The new Visualization window presents several views to analyze and track audio output including Peak Meter, Oscilloscope, Phase Oscilloscope, Correlation Meter, Direction Meter, Spectroscope, Spectrogram, Bit Meter and Tuner. Customize and save the layout of the Visualization Window to suit your personal workflow.
Tune up your vocals
Use the Elastic Audio Editor to tune your vocals to a pitch-perfect performance. Achieve amazing results with complete control over pitch. Change the pitch without affecting the length of the recording
Ozone Elements by iZotope
Create mixes for radio and streaming. Ozone Elements lets you create powerful and clear audio masters. Professional developed presets for a range of genres give your mix a crystal-clear, punchy sound. The new Mastering Wizard suggest the optimum starting point for the signal chain or processor settings you then have the freedom to add your own detailed touches.
Improved recording workflow
The updated and redesigned recording window offers easy access to all the settings and controls you need to achieve the perfect recording.
Clean up and enhance the audio to your video
Open popular video formats and use the included audio filters, effects, and noise reduction tools to optimize, enhance, and repair the audio. Your video never sounded so good! A quality-degrading re-rendering process during export is no longer required, due to Remuxing technology your picture quality always stays the same.
The fast way to assemble a CD
The new Open and Append command makes it easier and faster than ever to assemble tracks for a CD. Select a file (or group of files) to append to automatically add and apply CD track markers.
Perfect sound for a perfect video
Your videos have never sounded better! Edit the most popular video formats with more than 20 audio effects for restoration and editing your recordings. Youll no longer need expensive degrading algorithms due to ReMuxing technology. For top quality image and sound.
The fast track to CD masters
The new open and paste command makes it easier than ever to compile tracks for a CD master. Select one or multiple files and add these automatically, including track markers, to your CD.
http://www.rarefile.net/blpn9uoxrx79/MAGIX.SOUND.FORGE.Audio.Studio.15.0.0.118.Multilingual.x64.rar
http://www.rarefile.net/2vlx7jqdurng/MAGIX.SOUND.FORGE.Audio.Studio.15.0.0.118.Multilingual.x86.rar
http://www.rarefile.net/5q1pvqqibp7b/MAGIX.SOUND.FORGE.Audio.Studio.15.0.0.47.x264.rar
http://www.rarefile.net/8nbhyn4cxkn8/MAGIX.SOUND.FORGE.Audio.Studio.15.0.0.47.x86.rar
http://www.rarefile.net/cn427xtu9pv9/SOUND.FORGE.Audio.Studio.15.0.0.46.rar
http://www.rarefile.net/dgxpkakvip1m/SOUND.FORGE.Audio.Studio.15.0.0.46.x64.rar
http://www.rarefile.net/c8pjc17w8t3v/MAGIX.SOUND.FORGE.Audio.Studio.15.0.0.40.rar
http://www.rarefile.net/0ecqzkt25qdq/SOUND.FORGE.Audio.Studio.14.0.75.x64.rar
http://www.rarefile.net/fsmlhhrh2fg8/SOUND.FORGE.Audio.Studio.14.0.75.x86.rar
.