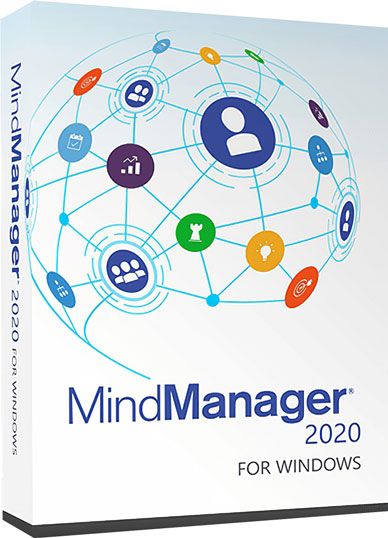 MindManager is a powerful mind mapping tool that boosts your individual productivity. Whether you're creating a business plan or developing a new website, its robust mind maps have the features you need to plan and complete any project.
With MindManager you can:
Boost your individual productivity. Organize all your ideas in a single view so you can see connections and draw conclusions quickly.
Ensure project success. Get visibility into every aspect of your project plans. Show the big picture and keep the details in context.
Drive business decisions. Visual analytics let you immediately see the impact of changes to budgets, forecasts, and business plans.
What's New
MindManager for Windows has long been your go-to solution for brainstorming, organizing information, and planning projects. Now it's even easier to add content, work with large maps, give presentations, and create detailed strategic plans with MindManager 14 for Windows. We've also dramatically expanded our capabilities for analyzing quantitative information, so you can plan and calculate detailed budgets, make forecasts, analyze portfolios, and more.
Smarter Budgeting and Forecasting
MindManager for Windows now lets you define and apply formulas to topics throughout your map, so you can instantly see the impact of changes in numerical data. Unlike conventional spreadsheets, you can easily drag and drop content or apply filters to quickly perform visual "what-if" analyses. The new Smart Fill feature allows you to set the color of a topic property based on a numerical value. This makes it easy to see opportunities and issues, like if you have gone over budget, or have more to spend.
The new formulas feature takes calculated topic properties to the next level, with support for complex formulas using multiple functions and operators. Data is easy to edit and present and you can define multiple calculated topic properties on any map topic.
Efficient Project Planning
Build out project plans quickly with simplified task creation. Add task details, edit due dates, and update progress status directly in the map.
Use map and Gantt views to validate priorities, schedules and resources, then manage execution using Microsoft Project, in Microsoft SharePoint (using MindManager Server) or in ProjectDirector.
Easier Map Creation
Drag and drop critical content to your maps from your desktop or any file system (including Mindjet files). Now you can also drag and drop emails, tasks, and contacts directly from Microsoft Outlook to populate project plans and org charts.
Faster Navigation of Content-Rich Maps
The map index feature now lets you find what you need by marker, hyperlink, attachments, notes, and more. Want to quickly see a list of all attachments or review all the formulas that summarize your project's key indicators? The index provides an easy way to navigate and review all of your important content.
Enhanced Decision Making
Use 2x2 analysis views and Guided Brainstorming to drive business decisions. Brainstorm a series of creative solutions to a complex problem and evaluate the proposed solutions in a "Risk vs. Rewards" matrix to select the key candidates.
New presentation tools, including the ability to pan and zoom content during slide shows, make it easier to tailor information to your audience for strategic reviews.
Works with Your Current Tools
Import from Microsoft Word and Project. Export to Word, Project, PowerPoint, SWF, PDF, image or web pages. MindManager for Windows also integrates with Microsoft Outlook and Microsoft SharePoint (when used with MindManager Server).
http://www.rarefile.net/ry772ren05sl/Mindjet.MindManager.2021.v21.0.261.WINDOWS.rar
http://www.rarefile.net/y5bibyubwbbz/MindManager.2020.20.1.238.x64.rar
http://www.rarefile.net/x27qu3dsq97g/Mindjet.MindManager.2020.20.1.235.Windows.part1.rar
http://www.rarefile.net/ccfhoy8yf5v8/Mindjet.MindManager.2020.20.1.235.Windows.part2.rar
http://www.rarefile.net/ii6rcu9hoaqh/Midnset.MindManager.12.1.190.Mac.zip
http://www.rarefile.net/8dd85f6ywlsx/MindManager.20.1.234.x64.rar
http://www.rarefile.net/x0u4bo12qlek/MindManager.20.1.234.x86.rar
http://www.rarefile.net/axayda7c5fbw/MindManager.19.1.198.Windows.x64.rar
http://www.rarefile.net/ma2jskxusc5w/MindManager.19.1.198.Windows.x86.rar
http://www.rarefile.net/sbtugw71r3i0/MindManager.12.1.177.MAC.zip
http://www.rarefile.net/oilojz85lcib/Mindjet.MindManage.2018.v18.2.110.x64.Windows.rar
http://www.rarefile.net/32gdejtxltm2/Mindjet.MindManage.2018.v18.2.110.x86.Windows.rar
http://www.rarefile.net/lsxhnq1r0n5f/Mindjet.MindManager.11.1.160.MAC.zip
http://www.rarefile.net/6pd4hw4o5a4w/MindManager.2017.17.2.208.0.Multilingual.WINDOWS.rar
http://www.rarefile.net/n1wn2l8ki948/MindManager.10.6.112.MAC.zip
.